A non-Governmental Coordinator of Rock of Ages Empowerment Foundation. For Plateau State Madam, Lady Florence Hassana Abadom has empowered 300 widows to support them in Christmas and New Year celebration.
Abadom made this disclosure while presenting the items for 2016 Christmas joy to widows held in Jos North Local Government Area of plateau state.
She said, the challenges you face today as a widow bringing up your children spiritually ,physically ,educationally ,I urge you to endure and persevere its will yield the desired result as God will exchange your sweat with sweetness of fruits of your labour.
Abadom admonished that to understand that the hardship ,frustration ,disappointment ,rejection and other issues related to widowhood are a mere shadows devil work ,as tomorrow is full of greater hope .
She advised the widows to hold onto God and remain steadfast in their relationship with God through constant prayers and study of God word.
However, some the items shared includes; 20 bags of rice, 5 bags of beans, clothes, shoes and cash to money to over 300 widows in Jos and across 17 local Government areas of state benefited from the kind gesture.
She challenged some spirited individuals to consider the plight of widows in this period of economy recession, stressing that they shouldn't fold their hands and resolve.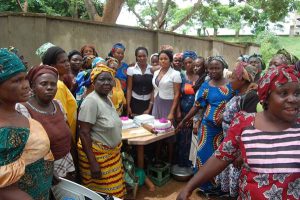 The guest speaker, Evangelist Nafisa Yahaya Kwande reminded the father international ministry ,Jos a Muslim shared her testimony on how she met the Lord and how she's transform from darkness into God miraculous light of favour.
She said, life outside Christ is emptiness that only Christ allows one to experience fullness of blessing and favour.
Kwande called on the widows to remain prayerful and courageous and they shall overcome the storm of this world.
Goodwill message Amb. Yemi Mathew, has lamented the culture of Africa where women are placed on disadvantage level frustration and hardship when the brain winner died.
He appealed to Christians who are wealthy to as a matter of concern take the plight of widows with all seriousness and also admonished them to invest in bringing their children in way of the lord's.
Source