Over 2000 widows in Abuja have received cash donation and small-scale business start-off items worth over N20 million.
The gesture came through Rock of Ages Empowerment Foundation.
Founder of the Foundation, Evangelist Ignatus Newman, presented the gift items and announced scholarship for indigent orphans at a ceremony marking 2016 International Widows Day.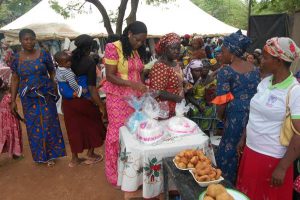 He lamented the neglect of widows in the country, saying the cash, food and various items donated to the women would enable them start-off their small scale businesses as they had already been trained for weeks in different skills acquisition programmes by the Foundation.
Items distributed include, bags of rice, sewing machines, hair-driers, microwaves, clothing materials and catering equipment among others.
According to him, the Foundation, which was established in 2009, has empowered over 7,500 widows while over 10,000 of widows and orphans have also benefited from its free healthcare service scheme.
He said the Foundation was privileged to be the first non-governmental organisation to celebrate international widows day in the country after it was announced officially world-wide by UN General Assembly to highlight the need for countries to give special attention to the plight of widows and their children.